Disclaimer:  I received free entry to the Atlanta Craft Classic Half Marathon  as part of being a BibRave Pro. Learn more about becoming a BibRave Pro (ambassador), and check out BibRave.com to review find and write race reviews! 
Finally having run a half marathon outside of my home state I can now officially say I am on my way to my 50 Half's in 50 States goal. This weekend was the Road Runners Sports Craft Classic Half Marathon in Atlanta. A race that celebrates craft beer and running. If you follow me on social media you know these are my 2 main passions. So when a race combines the two, you can bet I will fly hundreds of miles to get to the start line.
This race was an inaugural race in Atlanta. They also host these runs in Phoenix and San Diego. You can learn about them on their website.
So I hopped on a plane, booked my AirBnB and in the great words of Jermaine Dupri headed to the city where playas play.
Swag/ Bib Pick Up:
The bib pick up for this race was at the local Road Runners Sports store. Since they are the sponsor this made sense. However my only concern here was the location. I stayed about 5 minutes from the race start. However to get my bib took a 45 minute drive north. Assuming others were local to the race area, I can imagine a lot of people took this trip. In the next coming years I would recommend to the race directors that they try and centralize the bib pick up, but also make it more of an expo. If they want to give this race a big time feel, I would say put it in the heart of Atlanta, invite vendors and make it a traditional expo.
Regardless of this the pick up process was very smooth. They had tables set up in the store where you could get in line and get all the swag and your bibs. They even offered free samples of Nuun (the hydration drink that would be on the course). Adidas was also onsite offering samples of shoes. You even got 10% off an instore purchase with your swag (which I took advantage of).
There was a person (possibly the race director, not sure) high fiving everyone who came in. Everyone was super friendly and made for a great overall first impression.
The swag was great. Since it was a beer themed run each runner received a complimentary pint glass. Once again appealing to the craft beer lover in me. And instead of a shirt with the race logo on it men got a t-shirt that read "On A Beer Run" and woman got the same but in tank top style. I was happy about this because I am 10 times as likely to wear this shirt out vs wearing a race shirt. (Not the kind to socially hang out in my race shirts). The bib was also beer themed as it was in the shape of a six pack beer holder. Not pictured below, but we also received a pair of knock around sunglasses. Super comfortable. So overall the swag was very impressive!
The Course:
The race course was an interesting one. I say interesting because it is hard for me to make comparisons. I am used to running in Philadelphia where even a 5K with a few hundred runners will have a number of spectators. I am not familiar with the Atlanta running scene. Overall the course was very quiet. I can probably count on two hands the amount of people who were out there spectating the course. So it felt very lonely at times. Not a bad experience by any means, just unique for someone used to running in a city where races feel like parades and not organized runs.
The course also went down some odd paths that I am not familiar with as a runner. For a majority of the course they did not shut down the roads. Parts of the roads were shut down however they were still active. At one point we were running down a highway with one lane blocked off (as seen below). Other times we would run down a two lane road with traffic operating on both sides. And for about 3 miles the course ran down an active running path. While you may think to yourself a running path is ideal for running, think of a half marathon running down your local running trail. I had to avoid bikers, roller bladers and even the people out for their Saturday walk. Made for an interesting few miles.
Despite the active roads and odd running paths the race handled this very well. There was 1 police officer at EVERY intersection. And I do not mean major intersection, I mean any time a road intersected with the main road we were running on there was at least one police office. Not volunteer…..Police Officer. The safety they provided on this course was second to none.
Post Race:
After the race was over each runner received the same medal, regardless if you ran the 5K or Half Marathon. The medal was in the shape of a beer tap handle and had a bottle opener on the back of it. My recommendation would be to flip the bottle opener on the front of the medal so you can hang the medal and use it as an opener at the same time. Either way it was a cool medal for a beer lover like me.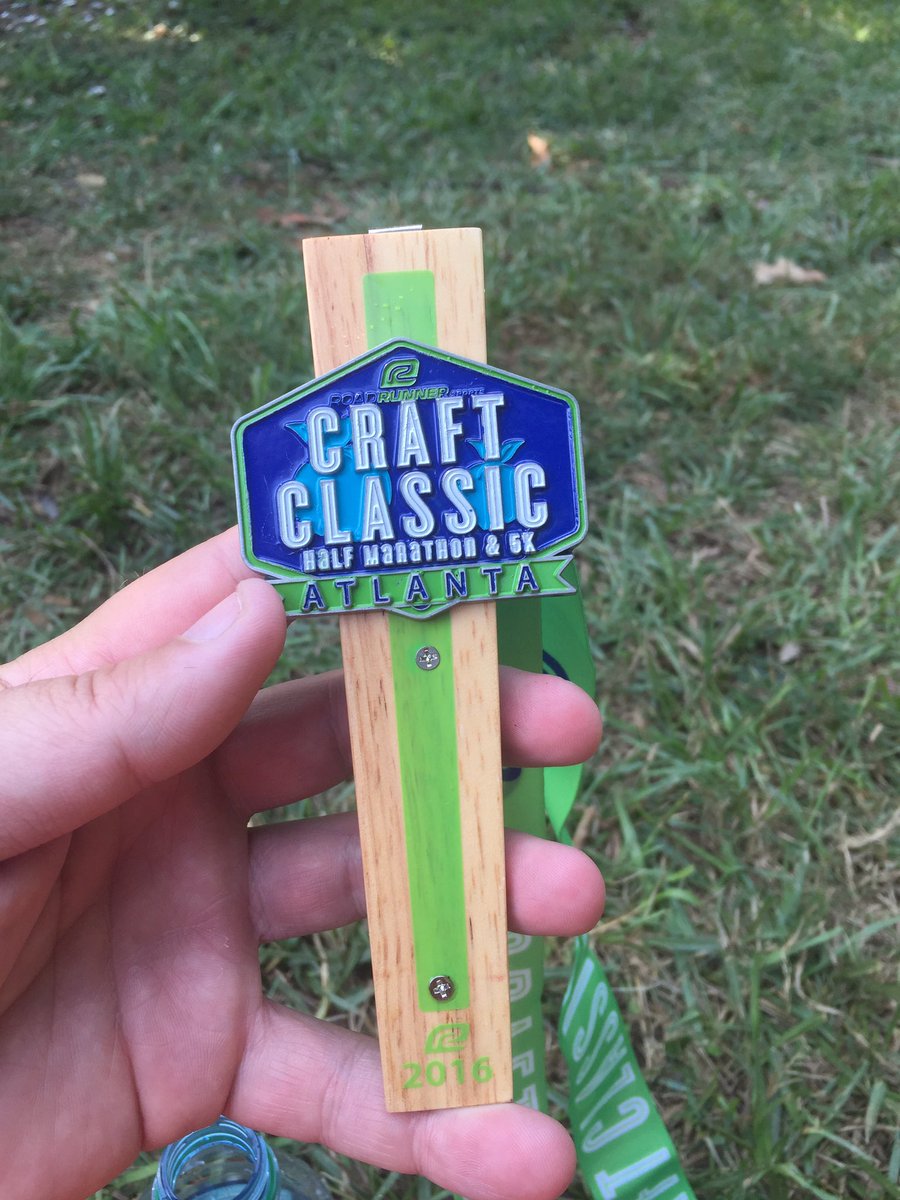 Speaking of beer, each of age runner also received a free beer from Monday Night Brewing at the end of the race. This was the first time I really ran a race and received a craft beer. Most races just have your usual domestic macro beer that costs next to nothing. Instead I got to enjoy a delicious IPA (my favorite) after the 13.1 miles were over.
Overall Experience:
Overall I really did enjoy myself. This was an inaugural race so if they do it again in 2017 there are always things they can improve upon. However my experience running this race was so positive that I would definitely run again in 2017. If anything the uniqueness of the race course leaves me with awesome stories to tell. Everyone I met while in Atlanta was supportive and friendly. I would recommend this race to anyone who asks.
Recommendations:
While I did enjoy this race very much I do a have a few recommendations to the race organizers. I make these recommendations based on two thoughts: 1) My view as a runner from the city of Philadelphia 2) Providing this race more of a big time feel.
Communication: The communication from the organizers could improve. While I appreciated my email inbox not being bombarded with an email every week, I could have used a little more. To my knowledge I may have received 2 emails in the time I was registered (about 3 months). One big piece was race day details. I do not recall getting an email covering race day/ bib pick up and this is huge info to not have. It was all on their site, so I was not lost, but an email with all useful information would help.
Course: I've never planned a race before so who am I to say this? But I have run a lot of races so I come from somewhat of a knowledge base. I don't know how much they promoted this race but it felt like it was a surprise there was a half marathon going on to the people in the city. There were relatively no spectators along the course. Next year I would recommend publicizing this race throughout the city. Even putting up signs along the course that let people know a race will be running through the area. It will allow people to come outside and cheer on the runners. It appeared as if the city wasn't warned ahead of time about the race.
Also I would try and get the course to avoid the local running path, or at the very least shut the running path down. This may cost money which could be unreasonable and for that I understand. But as a runner the running path portion made it hard to PR. It was 3 miles of having to weave in and out of bikers, walkers and other people going for a stroll on a Saturday morning.
Expo: If they plan on making this run a big deal I would move the bib pick up and make it more of an expo. As I mentioned bib pick up was roughly 45 minutes away from the course start. I would recommend moving the expo into the city of Atlanta (about 10 minutes from the race start) and inviting vendors. This way it gives it more of a big time race feel and also provides a more centralized, convenient location for runners.
Regardless of my recommendations this was still such a fun race. While I believe there are areas of improvement, that did not stop this race from being successful. I had a lot of fun running the streets of Atlanta and have great stories to tell for the rest of my running career.
One last thing; I said I ran this race on behalf of BibRave right? I wasn't the only one! I got to meet Allen and Jessica who also live in the Atlanta area. The orange was well represented that day!