My most recent runcation was my trip to Buffalo, NY for the Buffalo Marathon. This post is not a review of the race. If you would like to read my race review, check it out here. Instead this post is about the weekend my fiancé and I had in a city (and country) we have never visited before.
The trip started very early Friday morning. We hit the road at 6:30 AM. Luckily she chose to drive (her car and gas is company paid for) so I could clear the morning grogginess without having to control a vehicle. I am not much of a morning person.
Almost 7 hours later we had arrived at our first destination: Niagara Falls! As a part of these running trips she is really good at planning fun things to do while we are in the area. And with Niagara Falls being only about a half hour away we couldn't pass up the opportunity to see one of the seven wonders of the world. So we got to the border, sat for about 20 minutes and finally made our way into the country to see the falls.
For me this was my first time in Canada and overall I enjoyed myself. I think I enjoyed, way more than I should have, the fact that I could quickly calculate the kilometers per hour signs into miles (thanks running!). As she is driving down the road she kept asking me: "how fast should I be going?". It wasn't until we made our way out of the country that she looked at her dashboard and noticed km/hour were right there in front of her on her speedometer.
The falls were awesome to say the least. And we did the whole Niagara Falls experience. We took pictures outside of the falls, did the underground tour, took the boat into the falls and even did the interactive movie tour. Four hours at the Falls and we took it all in. It is definitely a must do.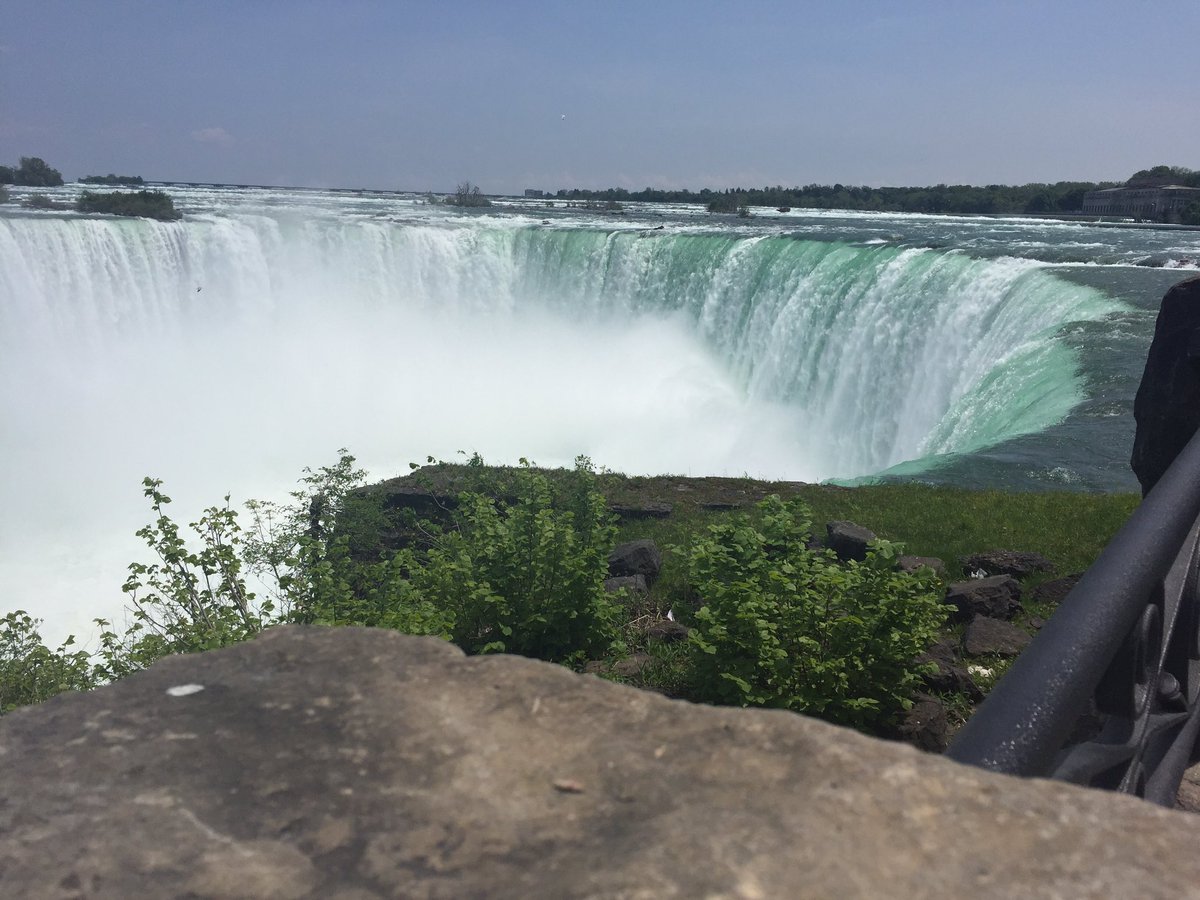 We took the drive back to the US and made our way into Buffalo. After checking in the hotel it had been a long day of travel and tourism and was time to get some food. So like a natural Buffalotonian (?) we made our way to a Mexican restaurant. That's a thing locals do right? I'll give Buffalo credit here; they know good Mexican. We had a delicious dinner of guacamole, burritos and chips and washed it down with a few margaritas. All and all a delicious way to cap off day one.
Day two started and I felt the need to get a run in. Truth be told I hadn't run much in the month leading up to the race, so going back to my high school days I felt like cramming some study time in a day before the test. I headed to the hotel gym and took a 3 mile spin on their treadmill. Luckily they had Law and Order on the TV in front of me so it was a distracted 3 miles.
After this cram session I got back to the room, cleaned myself up and it was time to head to the expo. I won't go over the expo in too much detail because you can read it in my official race review, but it was an easy and smooth process. My fiancé loves seeing what free stuff she can walk away with at these things. Leave it to her to feel like a winner walking away with a package of spaghetti that a race was using to advertise their 5K race. So here I was with my race swag bag filled with race shirt, bib, extra clif shots I bought and a pound of uncooked spaghetti. Just a normal race expo I suppose.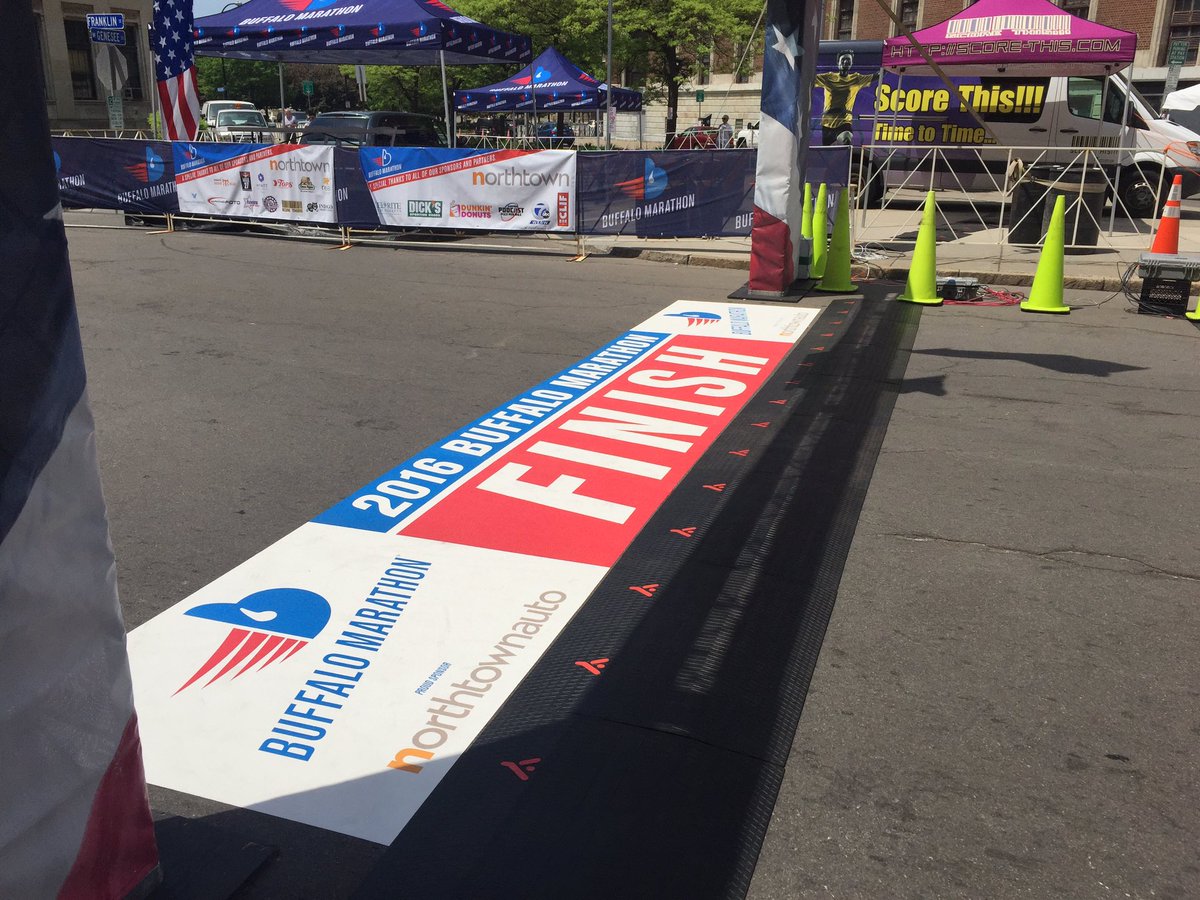 She has this obsession with horses, so before we left the expo we had to stop and pet the police horses. The police were very nice about it and welcoming. One even suggested I should buy her one of her own. It was at that point I had to casually point to her left ring finger (we were engaged as of a month ago). The one officer told us of his horror stories of Philadelphia traffic. When we told him where we were from the look on his face said it all. It feels like everyone has a Philadelphia story.
After the expo it was time to get lunch. As with most trips we take, she plans the fun tourist parts and I Google the crap out of that cities Craft Beer scene. Every vacation we take I have a sheet with me with all of the local craft brewers in that area. I looked them all over and we decided Big Ditch Brewing was the one we needed to go to. And what a good decision that was. This may have been one of the better craft breweries I have been to (that isn't a nationally recognized brand). They had a delicious menu, amazing beer on tap and a very friendly wait staff. Her and I were both happy with our decision. It was even cool that there was a wedding activity going on in the blocked off area next to us. I say wedding activity because not only did we not know what it was, our waiter was unsure as well. The sign just said "Pete and Debra's Wedding" on it. And the guest were dressed exceptionally casual. Was it a rehearsal dinner, an actual wedding or maybe reception? We will never know.
When in Buffalo, I highly recommend this place. I would go back in a heart beat if I could.
Once lunch was over it was time to relax a bit. I headed over to the Village Beer Merchant in town and picked up some local craft beers for the hotel mini fridge. They had some beer local to the area so I was happy. Being a craft beer fan I always enjoy seeing what the locals have to offer, and Buffalo did not disappoint. I also wanted to get an easy drinking IPA to have to relax with after the race. So I walked out with a six pack of Clown Shoes Galactica
Saturday night it was time to carbo load. Race day was less than 12 hours away and I needed to start my "night of" preparation. Luckily Buffalo does not fall short with Italian restaurants selection. So as with most vacations I did a quick search on Yelp and settled on the restaurant of choice: Cecilia's Ristorante. It was a very nice restaurant/ martini bar. Luckily they just recently installed beer taps, so I was able to find carbs in liquid form. After guzzling down a Southern Tier Live and Penne Sausage and Chicken I was carbed up.
It was a delicious meal for both of us and we made our way out. Since my first alarm was set for 5:05 AM I needed to get back to the hotel and get to sleep. As a night owl I didn't finally see the back of my eyelids until about midnight. This wasn't an issue at all as I usually get to sleep around this time anyway. (Probably part of that not being a morning person thing). The morning came quick and it was time to get to the race. Again, I detailed the race in my review so no need to rehash. Can quickly fast forward to Sunday afternoon.
The race came and went (well not that easily) and it was time to get our Sunday started. Once I could walk normal we headed out for lunch. Again, I wanted to maximize our time and get to a brewery that also had a menu. We probably should have went back to Big Ditch, but I wanted to explore. So we made our way to the Pan American Grill and Brewery. While we did enjoy our time here, we were disappointed to hear they were still on a brunch menu at 1:30. So the selection was limited. I enjoyed a breakfast burger (and beer) she enjoyed chicken sliders. Tasty, but again the menu felt limited so wasn't too overwhelming. Sorry Big Ditch, we should have listened to instinct.
Once we left we felt we still were missing out on one thing we had to do: Buffalo Wings. You wouldn't travel to Philadelphia and not have a cheesesteak would you? So we made our way to get some buffalo wings. She did a good amount of research before hand and settled on a place called Duff's. Of all the reviews she read they were the best in town. So we made the travel to the bar for these famous wings. While I did enjoy them, I wasn't overly impressed. This may be blasphemous to say but I have had much better in Philly. I won't say they were bad by any means, but nothing to write home about. Regardless, I'm happy to say I have had buffalo wings in Buffalo. Do it for the story!
After this it was time to get back to the hotel. I did just run a marathon after all! I got back in bed and let my legs relax. Since we ate late and stopped for food at multiple stops we didn't think of doing dinner. However towards dinner time she got a craving for ice cream so we went back into town for milkshakes. I got my standard (cookies and cream, cookie dough mix) and she got a sundae. This made up for the wings debacle so we were happy. It got late so we went back to the hotel and called Sunday a wrap.
Monday morning it was time to hit the road again. So we packed up the car and made the long drive home.
Overall our time in Buffalo was a memorable one. We saw sights and sounds of one of the seven wonders of the world and experienced a city we have never been to. I was surprised at Buffalo. Maybe it was the fact that it was Memorial Day weekend, maybe it was because I am from a much bigger city, but Buffalo had an interesting feel to it. It is clearly a thriving city with big business, however it felt lonely. Streets weren't packed with cars, there were barely anyone on the sidewalks and overall just felt quiet. It was relaxing in a way. Driving through Philadelphia can give me stress like crazy. So to be in a city that wasn't quite as populated was a good break. We enjoyed our time there and will be a trip to remember forever.