The Hot Chocolate 15K is the only Philadelphia race that I can say I have run every year since its existence. Of course, it has only been in existence since 2014, but hey, I've run em all. And I can say they keep getting better year after year. 2016 was the first year I ran this race on behalf of BibRave and my first race in 2016 as a BibRave Pro.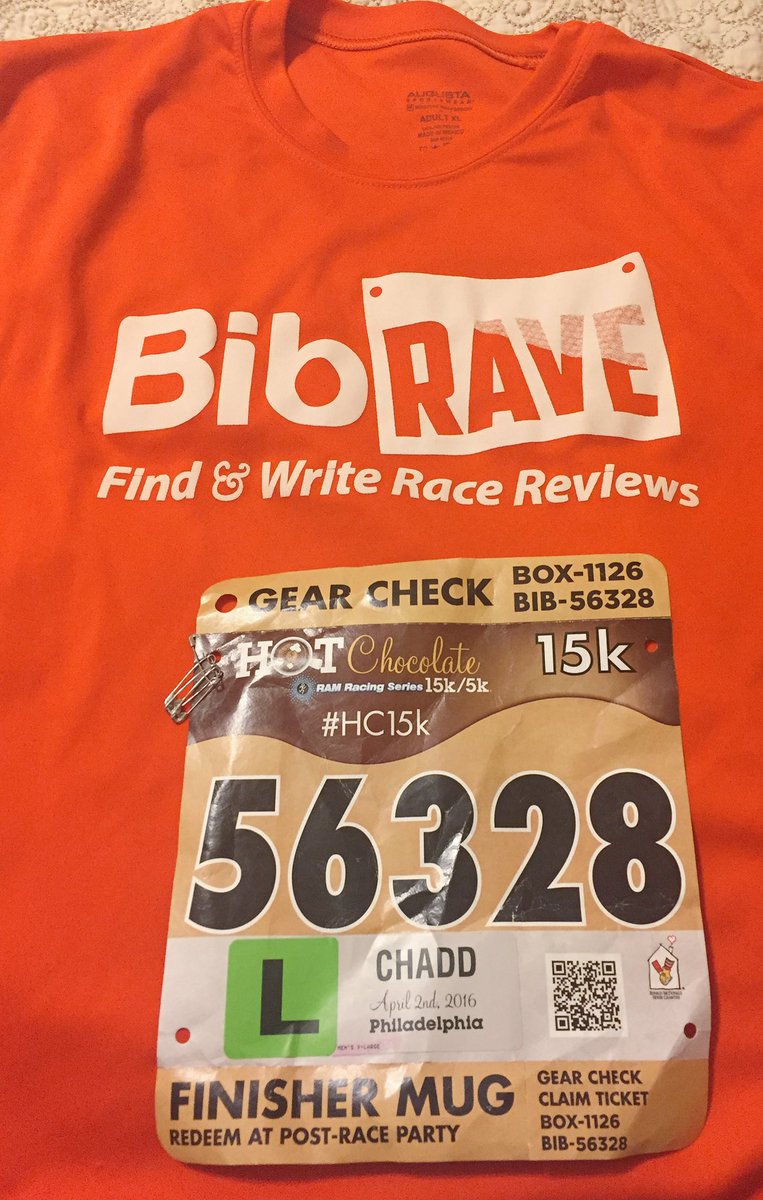 Race Expo:
The Hot Chocolate 15K does host a fun expo. For most races below the half marathon mark the expo's aren't too much to write home about. Those races will allow for a pre race packet pick up, but they are no expo. The Hot Chocolate run does set up an expo however. This year they had about 10+ vendors set up and had plenty of stands available to buy gear. Personally for me I don't really buy much at an expo or shop around much. That's just who I am as a person, even outside of running I am not much of a shopper. But if you are looking to pick up gear, there is plenty to choose from at the expo.
Another thing I enjoy about the Hot Chocolate run expo is how they handle the bib pick up process. Most runs you have your bib number printed directly to the bib. As a result you have to get into the specific line with your bib. However with the hot chocolate run they print out your information and attach it to the bib. As a result it doesn't matter what line you get in, because anyone can print your information out. It makes the process that much quicker. So for me, I got into the expo, picked up the bib and my race bag, got my chocolate covered marshmallow (yes they had those as giveaways) and went along my way.
I will say this about the expo to the race organizers: please extend the race one more hour. A cut off time of 6:00 is difficult because getting to the city from the suburbs on a Friday after work is very difficult. I got to the expo at 5:55 and that was with leaving work early. I will say that it is nice that the organizers will mail you your bib if you can't make it to the expo. But some of us enjoy the expo and would rather pick it up versus getting it mailed.
The Course:
I've written plenty of reviews of races in center city Philadelphia. There are very few places to hold a race in Philly. As a result the course for most Philly races are the same. Primarily flat and passing along a lot of nice views. You have the back of the Art Museum off the water, the skyscrapers that make up the Philly skyline and you run right along one of the biggest highways Philly has, I-76. If you're familiar with Philly all of this makes sense to you. If you're not familiar it's even more reason for you to come here and run.
The one thing that made the 2016 course unique was the rain. Obviously the race organizers couldn't do anything about this, but it did make for an interesting run to say the least. It poured so bad that I felt like I was getting hypothermia post race. But I guess that's what keeps things fun.
Race Swag:
The Hot Chocolate Runs are not without their swag. And plenty of it. First off, every runner gets a running jacket. For me it was my 3rd jacket. Yes that's right, they have been giving out a race jacket instead of shirt every year. And this year was by far the best jacket yet. It fits comfortably and the material is high quality. I really like that they do this because I wear my jacket from last year all the time. Whereas I probably wouldn't wear a race shirt that often. And you get the jacket whether you run the 15K or the 5K.
In 2015 they introduced a medal for the 15K. I was surprised they didn't do this in 2014, but was happy to learn they changed that in 2015. And 2016 was no different. If you ran the 15K than you received a chocolate bar shaped medal. Sadly this year they ran out of medals and not everyone got one. The race did address this and will make sure everyone gets a medal. Something for them to look into for 2017.
The swag doesn't stop there though. After all this is the "Hot Chocolate Run". After the race every finisher gets a cup of hot chocolate as well as a plastic mug with melted chocolate. Along with the chocolate you are given a banana, marshmallow and pretzels to dip into your chocolate. Yes you read that paragraph correctly. You are pumped full of chocolate after the run! This is reason enough to sign up.
Overall Impression:
There's a reason I am a 3 time runner of this race. It's a really fun race. In fact it's such a welcoming race that my fiance, a few of her family members and a few of my family members all ran in the race. So overall I would highly recommend this race.
However having said that there are a few areas I would like the race organizers to take note of. First off, I had a mishap with my race jacket. When I got home and unopened my race jacket I noticed it said "Dallas Finisher" on it (see below). I understand things can happen, so it isn't the end of the world. But at the same time it's important to be aware that a Philly runner got a Dallas Finisher jacket. Hopefully it's something they can pay attention to.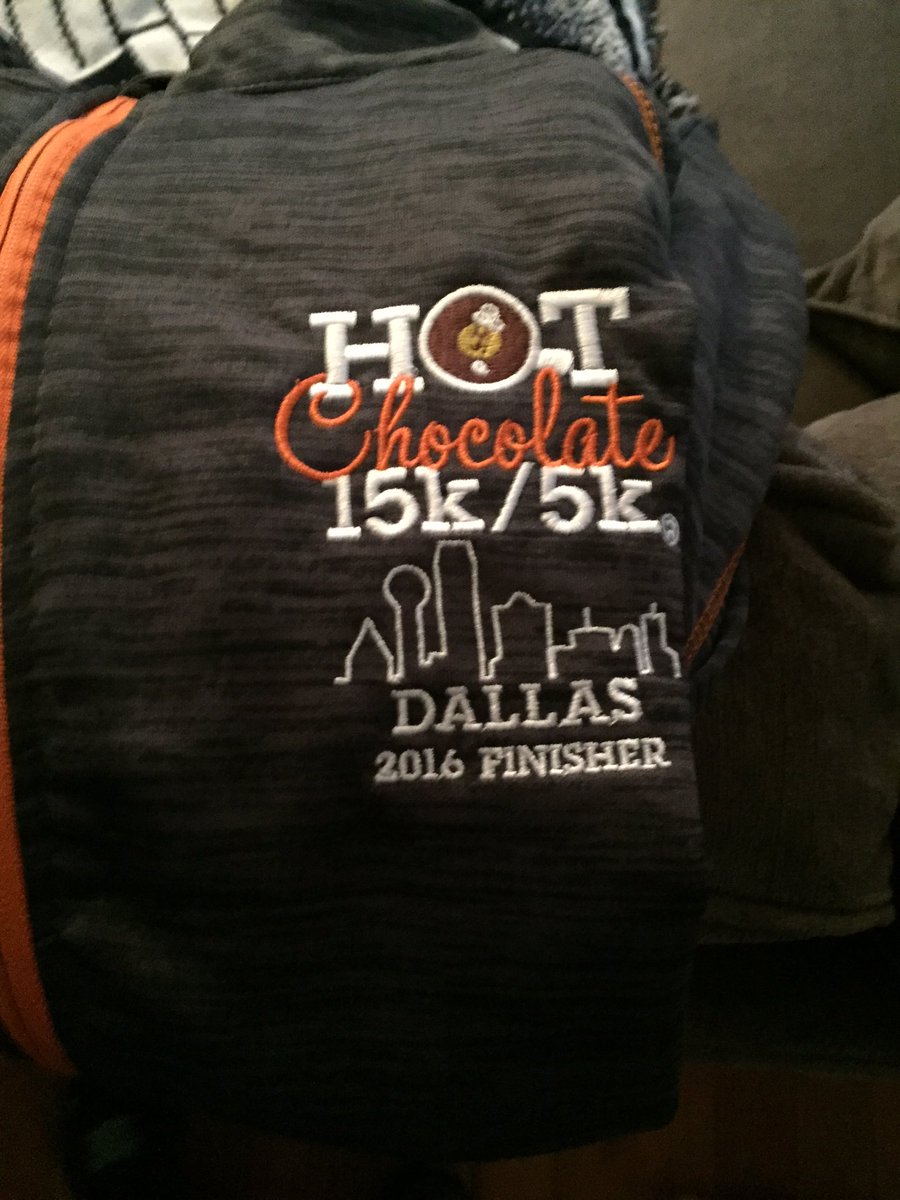 Also it would be important for the organizers to pay a little more attention to the local area. I am aware the organization that runs this is a national one. So they probably do not know the intricacies of Philadelphia. However if they did do a little research they would no we do not have a monorail as they put in one of their Facebook posts. Again this isn't a big deal and do not want to come off as knit picking. Just a little constructive criticism for the organizers to be aware of.
Regardless of these little mishaps the Hot Chocolate run should definitely go on your bucket list. It's one of the most fun races I run every year and is a very memorable time.