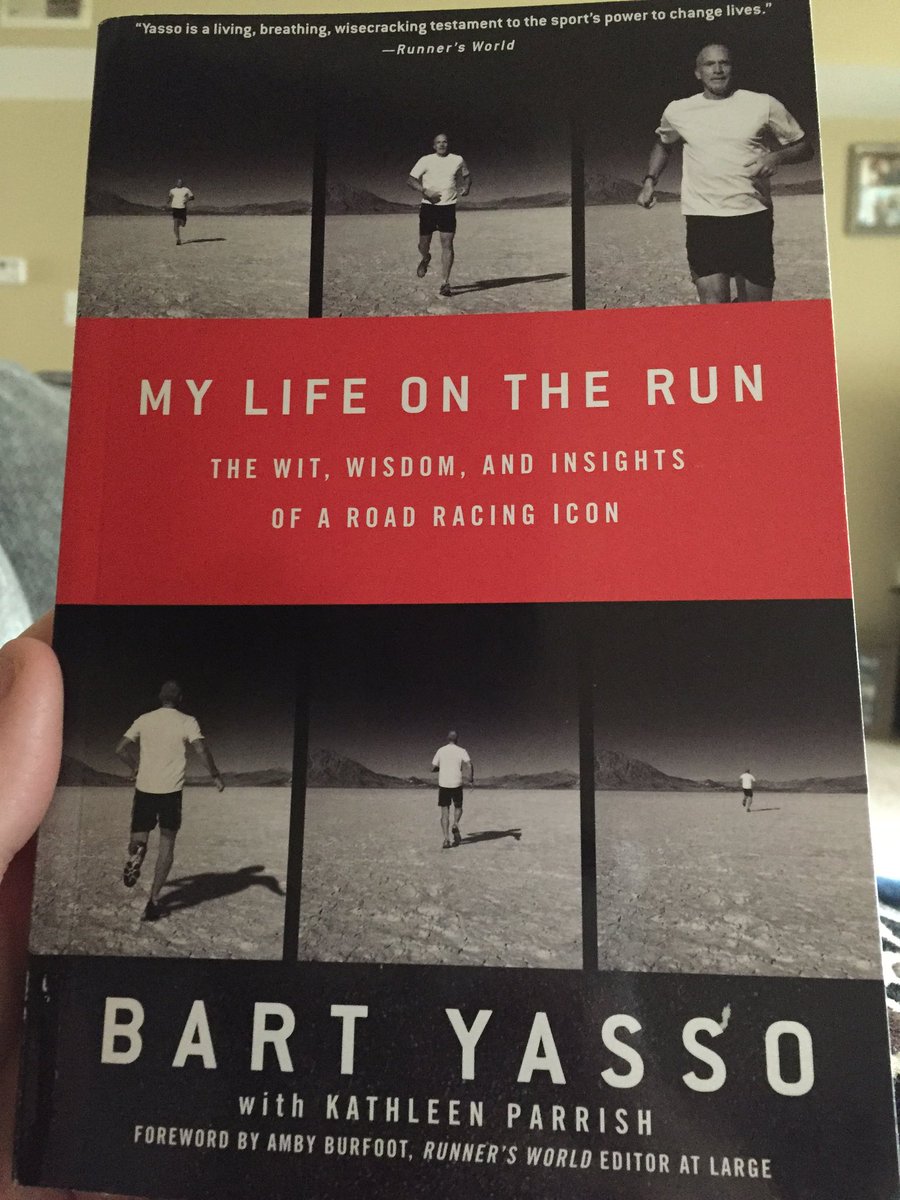 In my never ending quest to train myself mentally for the world of running just as much as physically, I have finished what I think is an amazing book. "My Life on the Run: The Wit, Wisdom, and Insights of a Road Racing Icon" by Bart Yasso.
I cannot say enough good things about this book. Most of the running books I have read to date are training related. Books to get me to my next race. However this is not that kind of book. It is not a training book dedicated to get you that next PR (although more on that later). Instead this is a book about the life journey of running icon Bart Yasso. Most runners know who Bart is as he is extremely active in the world of running. However this book takes it to the next level because Bart has literally run some of the most ridiculous, exciting and historic races in the world.
The biggest takeaway I had from this book was how relatable Bart was to the reader. I am not an elite athlete. I have made peace with the fact that I will most likely never BQ or even come close in my lifetime. And I am comfortable with that. So when I look into running books that is my number one concern. Will the author spend so much time talking about elite running (or even great running for that matter) that the material will be so foreign to me that it might as well be written in another language? Luckily that is not the case with this book.
What I loved so much about the book was that it was just about Barts life. It isn't wrriten for just a select few. It is written for anyone who has put one foot in front of another for a run. No matter if that's a 6 minute mile or a 13 minute mile. Sure Bart tells plenty of stories of his trips to Boston, or even the one time he won a marathon. But he also does an amazing job telling stories of runners with little to no experience. Like the Russian relay team he convinced to run for the first time just 3 days prior to race day. Or the relay team he convinced to train for a race who were from a half way house and never ran a day in their life before.
Bart tells stories of how he impacts others in the running community around him. But beyond just that he gets into stories of the ridiculousness of his running life along the way. Like the time he rode a bike across the country by himself or the nude run he ran once. It would be easy for Barts book to be for the upper echelon of runners. To take himself so seriously. Because he is a bad ass runner and has that kind of clout. However from what I can tell from reading this book that is not what motivates him. He seems to be fueled by helping others achieve their goals. Whether that is finishing their first 5K or going for a BQ.
Nothing exemplifies this attitude more than this paragraph of the book:
That is why I think this book can be so universally appreciated. Bart tells stories that motivate you to go out and achieve your own goals. You get finished a chapter and can't help but think you can go out there and crush your goals. In fact I was reading one of his chapters one day and it just prompted me to get up and go workout. I wasn't planning on it that day, and it wasn't the workout to end all workouts. But I was in the gym on a day I didn't plan on being there all because of his book.
Bart is a phenomenal story teller and it is easy to get lost in the pages of his book. This is very cliché, but I do not care because it is appropriate. His stories are captivating and keep you hooked on every page you turn.
The only disappointment I had was that I didn't read this book sooner. Since I entered the world of running 2 years ago I am familiar with who Bart Yasso is (it is hard to not be). However it wasn't until I read this book that I gained a full appreciation for his life and what it means to the running world. He has run some of the worlds greatest races and also races that only a handful of people dare to run. He is literally a living legend.
Why this disappoints me is because  I live just a mere 30 minutes from the Runners World HQ. So as a result it is not uncommon for me to run a local race and see Bart there. In fact at a half marathon last year he and I started the race right next to one another. Again, at the time I clearly knew who he was and knew how big of a deal this was for me. However after reading this book I really hope I get another encounter like this. The opportunity to run right next to a racing legend with what I know now from this book would be a bucket list item for sure.
I can't stress enough how every runner should give this book a read. Bart does a great job keeping the reader engaged in the content while also telling a great story about a life in running.
An added bonus of this book are the training plans at the end. Plenty of people have heard about Yasso 800's. So it is clear Barts advice should be taken seriously when he discusses training for a race. The end of the book has multiple training plans dedicated to running a 5K, 10K Half and Full Marathons of all racing levels. Whether you are a beginner, intermediate or advanced runner there is a training plan in the book to get you to your goals.
Want to find out for yourself? Pick up a copy here.