This week I continued to struggle with injuries. Some running related, some softball related. As I have posted, for the past few weeks every Sunday evening is Softball Sunday. For the most part I have been taking it easy because the Marathon is my main goal and I do not want a recreational softball league to ruin that. However this past Sunday I decided to play with a little more intensity. As a result I messed up my leg a bit, which ended up pushing back my fitness activity for the week. Let's just say I wont let that happen again. I am all for giving it my best effort, but someone like me doesn't train for a full marathon often so I need to keep things in perspective.
This is the PG rated version of the injury I suffered. No reason to gross people out on my blog or social media so I won't post anymore than this: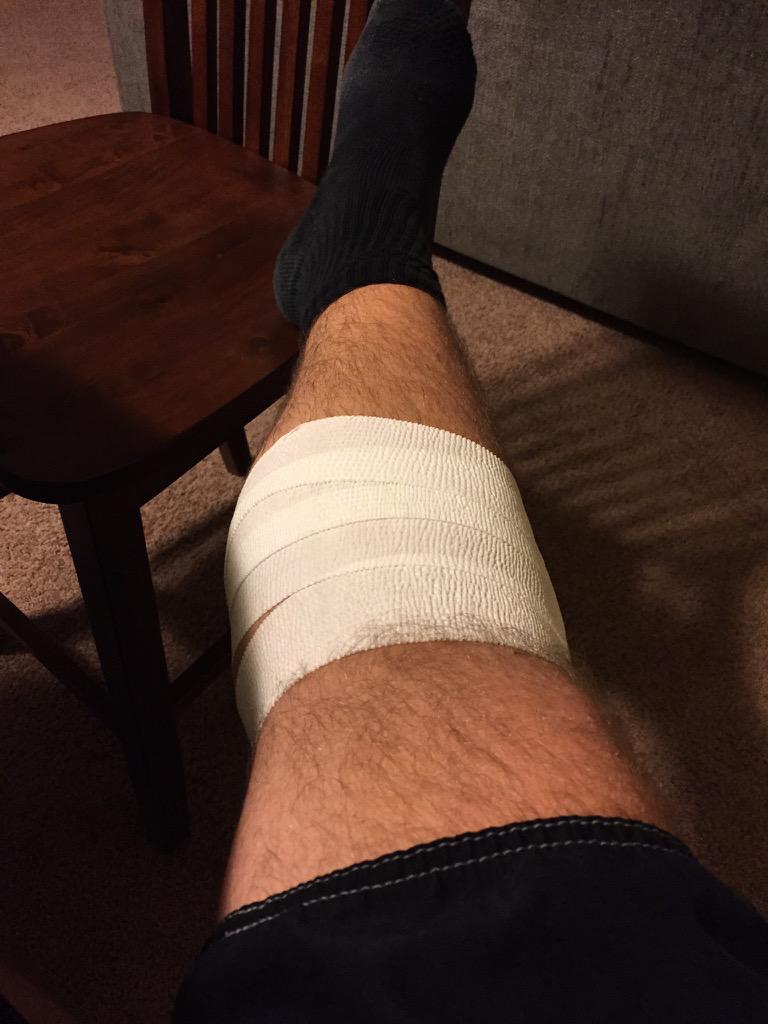 That doesn't look awful, but needless to say it was a week of walking gingerly and getting myself better. Having said all that. here was my week:
Monday: Rest
Tuesday: 45 Minute Elliptical
Wednesday: Rest
Thursday: Rest/ Rolling out Injuries
Friday: Rest
Saturday: Rest
Sunday: 10 Mile Run + 1 Hour of Softball
As I said, a lot more rest than I would have liked. My leg probably wasn't up for running until about Friday. I still got in a 45 minute elliptical workout during the week so I was happy about that. However I kept my leg unwrapped during that elliptical session and a few people walked by me and saw my injury…..I guess that explains why so many left the gym so quickly, here I just thought I was intimidating….jokes on me.
I did get a beautiful 10 mile run in on Sunday afternoon around a very nice lake in the area. As I previously wrote I am using a website to help me find areas for my double digit long runs local to me. And so far it has paid off. This is the scene from this weeks long run: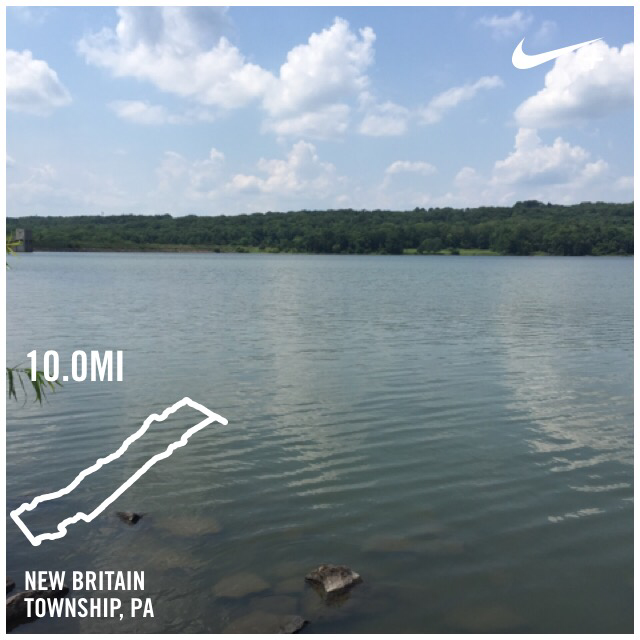 Outside of the physical aspects of this week, it was an amazing week as far as running accessories went. My ambassadorship with BibRave is really starting to pick up and I am being asked to test out a lot of great products. At the same time I am also purchasing a few things for myself, so I am inundated with running beyond just the physical aspect of it. I would say marathon training is really picking up!
Here are just a few products I received this week:
Zensah Compression Thigh Sleeve
I have never run in or used a compression thigh sleeve before. (Truth be told I just started using compression a few months ago). I do experience quad and hamstring pain so I am looking forward to using this product. I also am a Zensah fan so I am glad to test out this product and give my opinion. Need to know how much of a Zensah fan I am? Well I think I have a whole leg covered now:
Addaday Pro Roller
I am a newbie when it comes to the world of foam rolling. I swear they make instructional DVD's for their products because of me. I look at rollers the same way man first looked at fire. Sure it looks amazing, but what the heck do I do with it? I am excited by this Addaday roller because not only does it have solid reviews of working well, but it also seems really easy to use. Perfect for someone like me.
Feet Don't Fail Me Now
I thought when I first stared training for a Marathon that I would read a handful of books, get myself prepared and go for it. And I did in fact read 3 books before I put feet to pavement. However I decided to get another book to read. A few people recommended "Feet Don't Fail Me Now" to me so I decided it would make sense to buy it. I have always been told marathon training is mental as well as physical. So to keep myself mentally sharp as well as physical I am going to continue my marathon reading.
So there is my week. Not very active physically but I can tell marathon training is in full swing with everything that is happening to me. The good news is the softball injury has scarred and is now no longer in a bandage and I am free to go about my running schedule as planned.
Only 74 days until the big day!